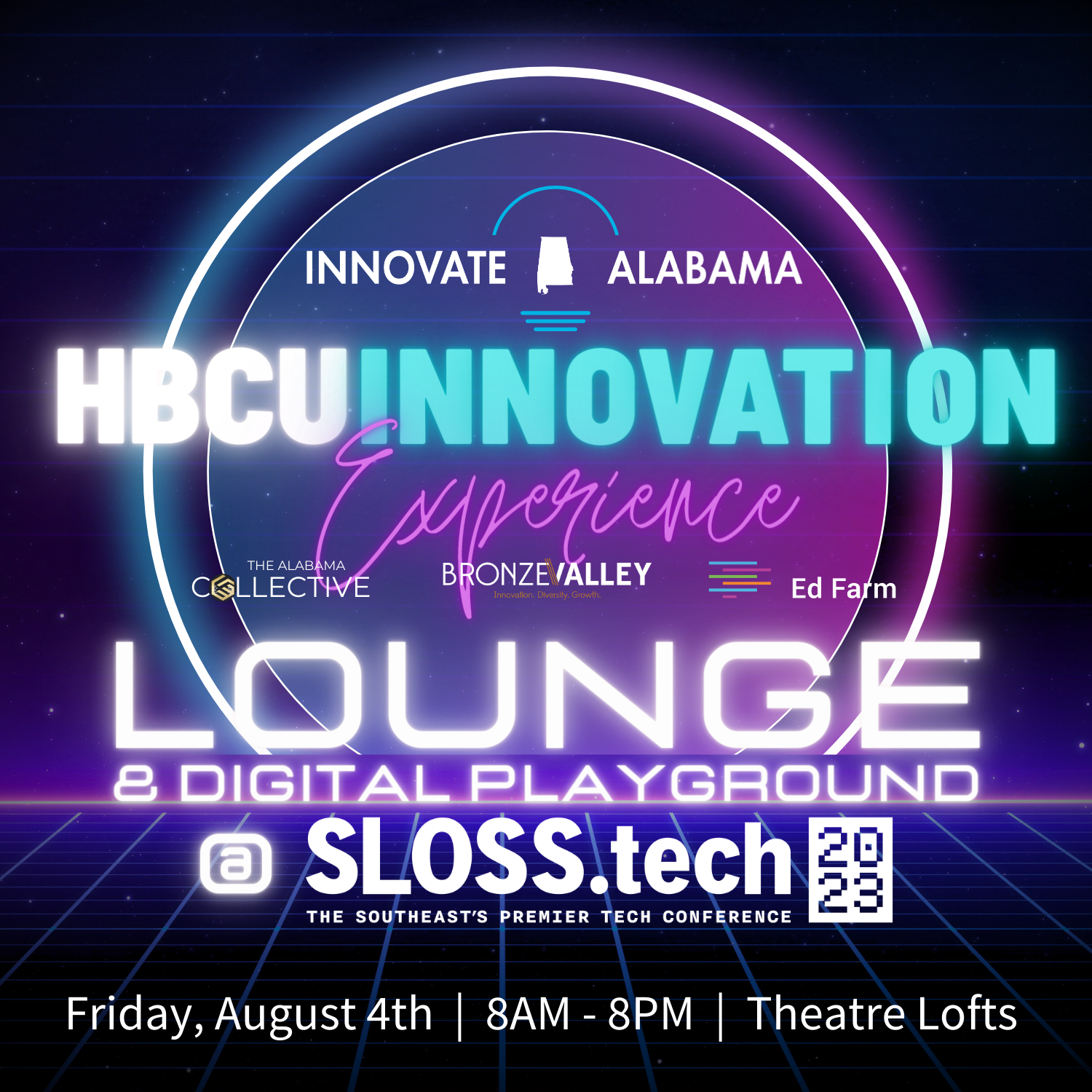 HBCU Innovation
Experience Lounge &
Digital Playground
Are you a student or early-stage tech professional? Apply for the Sloss Tech Next in Tech ticket.
Innovate Alabama's HBCU Innovation Experience is coming to Sloss Tech! Conference registrants and non-registrants are invited to join us at our HBCU Innovation Experience Lounge and Digital Playground on Friday, August 4th, at Theatre Lofts. 
Sloss Tech is a hub for Birmingham's tech community, where founders, startups, and companies can share ideas, build relationships and push the boundaries of innovation. In continuing our work with Innovate Alabama's HBCU Innovation Experience, we are proud to host the HBCU Innovation Experience Lounge and Digital Playground. The Lounge & Digital Playground will highlight our 14 HBCUs while curating insightful conversations about innovation, technology, and entrepreneurship. Our partners, Bronze Valley and Ed Farm, will showcase innovative programming and technology committed to elevating minority tech and entrepreneurial talent.
The HBCU Innovation Experience's Lounge and Digital Playground will expose attendees to the incredible strides being taken in tech and innovation at Alabama's HBCUs, educate administrators, alumni, and students on resources in tech, innovation, and entrepreneurship opportunities while engaging and empowering attendees to support these programs and advancements.
The Lounge and Digital Playground are free and open to the public, featuring Ed Farm tech demonstrations, info sessions from industry leaders, and HBCU alumni spotlights. Join us as we showcase and celebrate our state's HBCUs and create opportunities for students to engage the tech and business community.
Doors will open at 8 AM, with our speakers beginning at 10 AM.
Meet us at the Theatre Lofts, 1816 3rd Ave N, Birmingham, AL 35203!